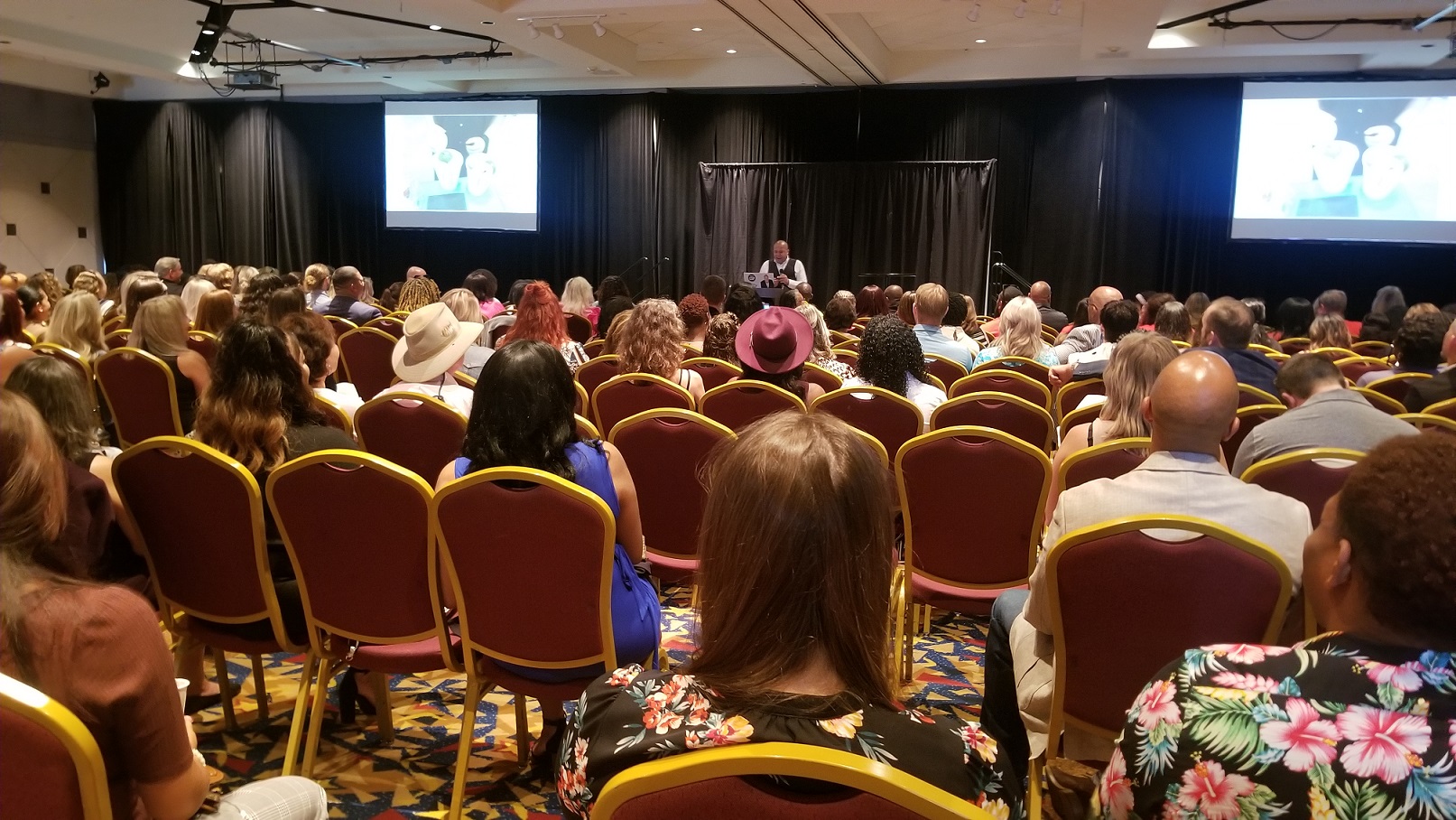 The 29th annual Regional Realtor Rally, hosted by Longleaf Pine REALTORS®, Inc. returned to Fayetteville on Sept. 20 to allow realtor members from across the Fayetteville area the opportunity to network, meet real estate professionals, and connect with real estate related vendors from all over.
Following three years of absence due to the COVID-19 pandemic, this year's Rally, welcomed more than 400 guests, 40 real estate themed vendors, and a guest speaker to the Crown Complex for the very first time.
"We're doing two things: one, we're letting our members gain knowledge in their industry, and then we're introducing them to the vendors that provide products and services that they need," said Longleaf Pine Chief Executive Officer Zan Monroe.
With a number of first time visitors to the Rally, Monroe said the organization is glad to see the event return and give the community time to grow and learn together.
"They learn from each other, everybody thinks real estate is this highly competitive world, and it is," said Monroe. "But, at the same time, realtors are glad to share and teach each other 'This is what works and this is what doesn't.' So, the ones that have been around the block a time or two are always willing to share information with somebody that hasn't because we've all been there.
This year's Rally featured guest speaker Terry Watson, a motivational speaker with more than 20 years in real estate experience in the Chicago area. Over the course of two sessions with Realtor Rally attendees, titled "Recharge, Refocus and Re-Engage" and "Afterburner," Watson uses his own personal experiences and stories from his life to help the crowd learn about providing a positive customer experience to leave a lasting impact on the people they serve.
"The biggest issue that affects realtors, and anybody in sales is, they really have to do a business shift," said Watson. "I volunteer with a business school, and most people in business, they try to focus on giving amazing customer service, and people don't want customer service. Customer service is actually a negative term, and most business owners don't realize it. They don't want customer service, they want an amazing experience, two totally different things.
Most business owners have a fundamental misunderstanding that someone will hire you for a service but they will either use you again, or not use you based on the experience, even if you completed the service."
The speaker for the 2022 Regional Realtor Rally was selected after careful consideration from the Longleaf Pine REALTORS®, Inc. Education Board.
"We always have a guest speaker come in, and we kind of talked about possible guest speakers, and Zan said 'listen, let's talk about Terry,'" said Vice President of Education Candilee Quigley. "Terry matches how we think and what we believe and it was just a perfect fit, and he was available and it worked out perfectly."
Longleaf Pine REALTORS®, Inc., President Amanda Smith said she also got something out of the first session.
"I think the message has been great," said Smith. "... It's not necessarily about what we're saying, but how we're making people feel, and I think he had a lot of great points for all of us."
Both Smith and Quigly said they keep the constantly changing landscape of the real estate industry in mind while planning the yearly event, and try to pick themes that are pertinent to what their members, commercial and residential realtors, are going through.
"We're having to kind of keep up with the changing times and that's always true, but we've had to adjust to a market that we've not been used to, probably ever is what I've heard some realtors say who have been in the business for 30-40 years," said Smith. "So, we're kind of having to rely on each other, you know, rely on our association for the proper training and education so that we know how to navigate and keep up with the changes and keep communication going with our clients.
Overall, event organizers said they were glad to see the turnout for the return of the event, and the group will consider the Crown Complex for the venue again next year.
"We have a lot of people who are first timers who have never been here before, I mean, all of our old timers are glad that they're here and our first timers seem to respond pretty well," said Quigley.