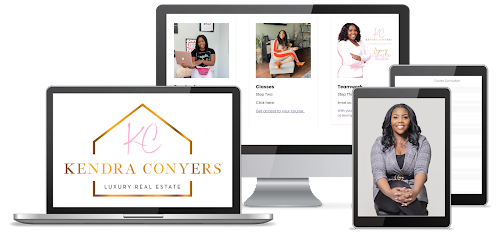 Kendra Conyers & Associates is launching a new four-week e-course for new and aspiring real estate agents.
Kendra Conyers & Associates is a real estate firm that provides clients with luxury experiences and elite services. The firm operates from Fayetteville to Raleigh and Charlotte, helping clients buy, sell and invest in land and residential and commercial properties.
The new program aims to help those stepping into the industry become successful. The course includes weekly sales and marketing training videos, a 45-page workbook, and access to a private community.
"The Pink Print is a course for new agents to really get their feet wet and get started," stated Conyers. "A lot of people get licensed in real estate, and as they join a brokerage, they don't really know what to do next, especially lead generation."
Conyers explained that many agents feel they can only do paid lead generation, but that is not the case, as she was able to see 42 homes with non-paid lead generation techniques.
"I would get so many DMs about the same thing from real estate agents from Los Angeles, New York, Houston, all over the world every single day," Conyers added. "People would be like, 'How in the world are you doing this?' And so at first, I was responding, but then it became overwhelming."
As a result, Conyers created the course. The e-course outlines steps that helped jump-start Conyers' career for upcoming agents to reach the same level of success, along with a step-by-step workbook that allows the practice of techniques, taking notes, and reviewing course materials at any time.
The private community that the course provides allows course takers 24/7 access to a Facebook group to ask questions or participate in discussions from realtors across the country.
The e-course is available for purchase on the Kendra Conyers & Associates website for $197.
For more information, contact Kendra Conyers at kendra@kendraconyers.com.