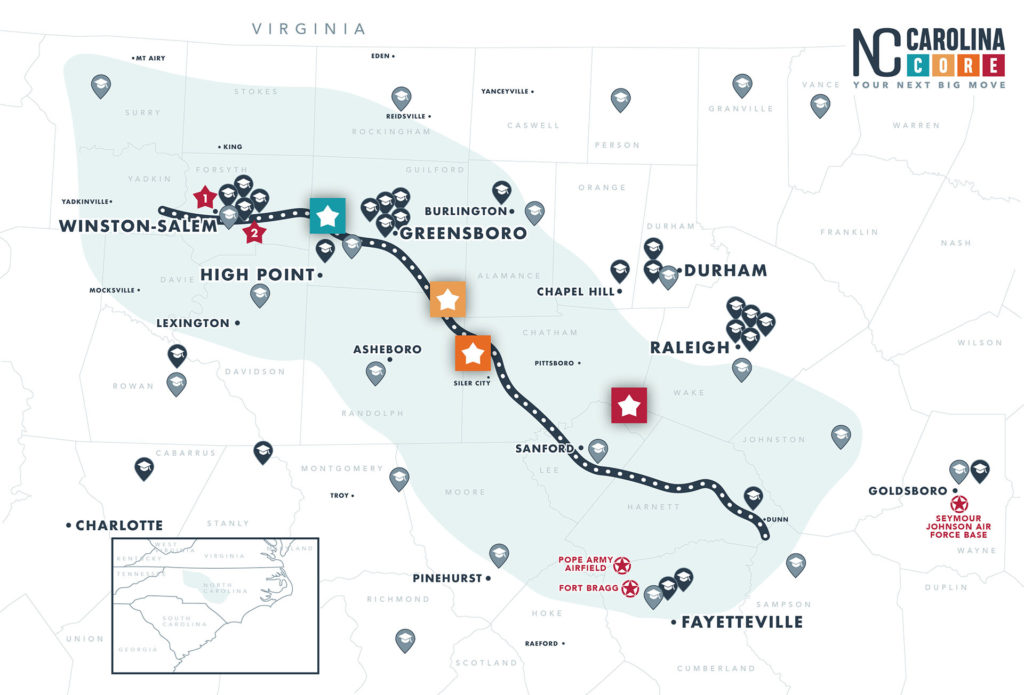 Realtors, economic developers, government officials, builders, investors and other members of the business community are invited to Sanford to learn about a massive commercial and real estate development effort moving through North Carolina through the NC Carolina Core development project.
Announced in 2018 by the Piedmont Triad Partnership, the NC Carolina Core brand was launched with a goal to create jobs and develop commercial real estate areas known as 'Megasites',1,000+ acre properties that have been designated and prepped for commercial development. Four of these sites are lined along a 120-mile stretch of highway along U.S. Highway 421 stretching from Interstate 77 to Interstate 95 known as the "Carolina Core" region.
These include the Piedmont Triad International Aerospace Megasite, the Greensboro- Randolph Megasite, the Chatham Advanced Manufacturing Megasite, and the Triangle Innovation Point.
Cities throughout the region include Greensboro, Winston-Salem, Fayetteville, High Point, Burlington, Thomasville, Asheboro, Sanford, Kernersville, Clemmons, Lexington, Mebane and Pinehurst.
When the Carolina Core began four years ago, the goal was set to create 50,000 office/industrial jobs by 2038. Now, that goal is nearly reached after just four years with 35,500 office/ industrial jobs expected to come into the area.
In December 2021, a major step towards that job goal was made when Toyota announced they had selected the Greensboro- Randolph site for their new $1.29 billion U.S. automotive battery plant expected to bring 1,750 new jobs to the area.
"The future of mobility is electrification and the Greensboro-Randolph Megasite is the ideal location to make that future a reality," said Ted Ogawa, CEO of Toyota Motor North America in a press release. "North Carolina offers the right conditions for this investment, including the infrastructure, high-quality education system, access to a diverse and skilled workforce, and a welcoming environment for doing business."
For supporters of the Carolina Core, the announcement was just the first step of many towards development of the area.
"The real estate industry is interested in job growth, because job growth means housing growth," said CEO of Longleaf Pine REALTORS®, Inc., Zan Monroe. "This is all about business and it's all about the business that can occur in this region. What we're being told is, that's the tip of the iceberg because there will be 100 companies that have to move into the region to supply that big company."
The first ever Carolina Core Summit will be held on Sept.13 at the Dennis A. Wicker Civic Center at 1801 Nash St. From 1-4 p.m., attendees will be able to learn about the Carolina Core project, the current developments and how communities can start preparing for development in their areas. Twelve real estate groups from across the state are coming together to host the Summit and bring this information to as many people as possible.
Eight guest speakers are currently expected including Wendy Harris, president of the North Carolina Association of REALTORS®, Chet Mann, regional vice president of OVM financial, and former mayor of Sanford, and Christopher Chung, CEO of the economic development partnership of North Carolina.
Attendees will be educated on topics including success stories such as the Greensboro- Randolph Megasite, current developments like the City of Sanford's role in helping make arrangements for the development of the Triangle Innovation Point megasite near them, and plans to expand Highway 421 into future Interstate 685.
"One thing that's going to be important about the Summit is to show folks 'This is how the Greensboro- Randolph Megasite came about," said Loren Hill, Carolina Core regional economic development director. "Look at all this regional cooperation that made it happen. We're not in this by ourselves, we'll all benefit from it and we'll all have to come together to help."
The event will also cover topics such as the importance of regionalism, Carolina Core efforts on workforce training and talent attraction, and how commercial and residential REALTORS® can benefit and assist with Carolina Core efforts.
housing needs, and development potential, and it helps everyone in the area prosper." said Mike Barr, CEO of the Greensboro Regional REALTORS® Association in a press release. "We want Carolina Core leaders in the real estate profession, in other business sectors, and in government positions to know about the recent impressive economic development successes and to understand what we need to do to prepare for our short-term and long-term future."
Along with population growth, urban development, real estate expansion, and increasing opportunities for the workforce state wide, The Carolina Core is expected to continue to grow opportunities for employees statewide. Project leaders say progress can only be done through regional collaboration in all phases of development.
"The Carolina Core has proven itself to be North Carolina's third economic engine along with our adjacent neighbors in the Research Triangle and metro Charlotte regions." said Mike Fox, president and CEO of the Piedmont Triad Partnership. "A big reason for the Carolina Core's recent impressive economic development announcements has been an unprecedented amount of cooperation across county and city lines."
The event is free and open to the public, but guests are asked to register online at nccarolinasummit.com. Anyone who is interested in getting involved or learning about these developments is encouraged to attend.
"This meeting is open to everyone who is interested in learning more about the Carolina Core. We invite commercial and residential REALTORS®, business leaders, economic developers, government officials, builders, investors, and the media to join us," said Monroe.