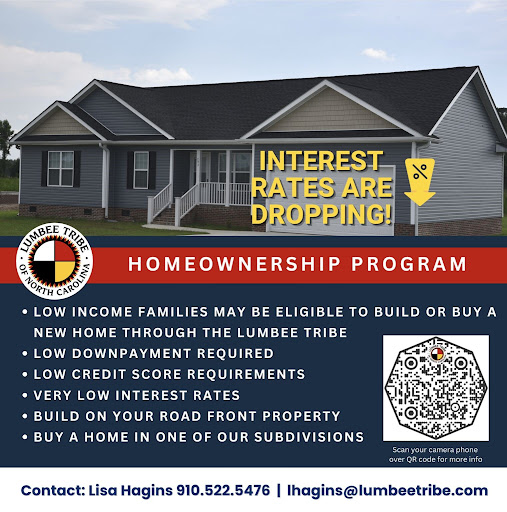 The Lumbee Tribe of North Carolina is continuing to help low income families on their path to home ownership. The Tribe relaunched their 23 year-old Homeownership Program at the start of February with a new lower interest rate that dropped from two percent to one percent for those that qualify. The goal is to build new, affordable homes within the tribal service area of Cumberland, Hoke, Robeson, and Scotland Counties.
"Because the cost of construction has gone up so much in the past two years, it's just been a burden, our families couldn't afford it. So we reduced the interest rate," shared Housing Manager for the Lumbee Tribe of NC Kathy Locklear.
Locklear also shared some of the requirements to be approved for the program.
"For our enrolled tribal members that can't afford to build a house we require at least a 550 credit score and enough affordability of course to afford the home," shared Locklear. "But the tribe itself acts as the construction company and the lender. We lend them the funds, but we contract the work through a contractor to build the home that they can afford. And once the home is complete, the deed of trust [or other ownership paperwork] is assigned to the home buyers."
Other requirements include:
Applicants must be an enrolled member of the Lumbee Tribe of North Carolina.

Applicants must be at least 18 years of age.

Applicants must be a first time home buyer.

Applicants for homeownership must not have received prior housing assistance from the Lumbee Tribe or any other governmental housing agency for the construction or purchase of a home.
Location of the new home is also an important factor being taken into account for applicants. The tribe can build on a piece of land owned by an applicant as long as it is roadside property. Another option is to have the new build placed in one of the four subdivisions owned by the Tribe throughout four counties: Autumn Chase in Lumberton, Arrow Point in Pembroke, Crescent Cross in Roland, and Cheraw Acres in Hoke County.
The tribe is also expanding with three other subdivisions currently in development with expansions to existing subdivision Cheraw Acres and new subdivisions coming to Lumberton (unnamed), and the Parkton area (Bear Creek). Those subdivisions are in the process of being completed near the end of 2023.
"With our funding that we receive this year we will build 10 homes for families on scattered sites, families that have their own land. With the new subdivision in Lumberton, there's going to be about 35 homes so, within the next couple of years, we should be able to assist 35 new families. And in our Hoke County subdivision, I think there will be 18 to 20 homes, and then with our Parkton location, it's 12 to 15 homes," shared Locklear.
Locklear shared the Tribe partners with local contractors to build the homes, but there are requirements before being hired by the Tribe.
"So normally they are local contractors, but it's an advertisement. There are some requirements, like they have to have certain percent of their subcontractors at least have to be Native American. So you know, there's some requirements, but we advertise on our website Lumbee tribe.com."
Locklear also shared that the Lumbee Tribe and Housing Department will be celebrating 250 houses completed for homeownership in the coming months.
More information for Tribe members and how they can apply can be found online here: https://www.lumbeetribe.com/home-ownership-program.