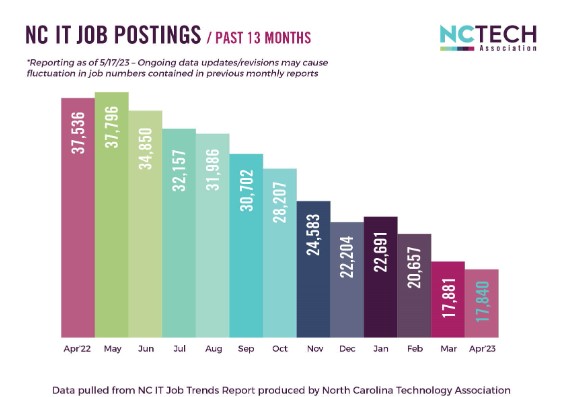 NC TECH has released its monthly snapshot of available IT positions in the state.
The report revealed that Fayetteville recorded 804 IT jobs posted for April. This is a 20 percent decrease from the amount posted in April of 2022.With all of the MSAs reporting a decrease in postings, Fayetteville's poor report is not a standout, but rather consistent with the trend.
"North Carolina and the US again have IT job postings at significantly lower levels than in the record-setting monthly figures for 2022," said Andrea Fleming, Director, Talent + Workforce Development for NC TECH, in a press release. "Surrounded by headlines of layoffs in the tech sector, and an unsettled US economy, these numbers don't come as a surprise, but can still be disheartening to see."
"Various reports and trackers show continued hiring, though for fewer positions. Also important to note that for a second month, eight of the top 10 hirers are not tech companies," Fleming continued in a press release. She added, "to quote NC State University economist Dr. Michael Walden, 'the economic ride will likely become bumpier. Hold on.'"
To view the full report for April as well as the reports for previous months go to https://www.nctech.org/talent/it-job-trends.html.