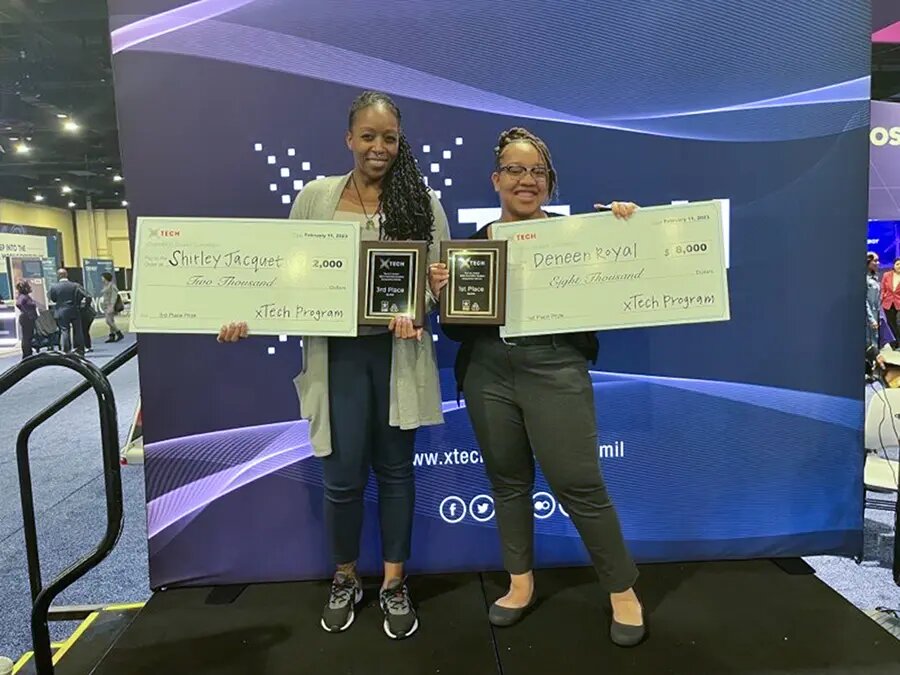 Fayetteville State University students Deneen Royal and Shirley Jacquet placed first and third, respectively, on Feb. 11, in the first-ever xTechHBCU Student Competition of the U.S. Army's xTech Program. FSU's Amani Valines was also among the 16 student finalists who delivered their technology solution pitches to an Army judge panel at the 2023 Black Engineer of the Year STEM Conference.
The xTechHBCU Student competition offered undergraduates from historically Black colleges and universities, who met the eligibility criteria, to present their inventive technological concepts aimed at tackling issues such as climate change, safeguarding the mental and physical well-being of soldiers, and integrating artificial intelligence and machine learning.
The U.S. Army recognized three up-and-coming scientists and engineers for their outstanding work, awarding $8,000 for first place, $5,000 for second place and $2,000 for third place. Additionally, the winners will have the option to create a prototype or pursue a patent for their technological solution.
The finalists represented nine HBCUs across the U.S. and finalists were invited to participate in an eight-week xTech Accelerator program that prepared students for their pitches, educated them on Army priorities and areas of interest, and provided insight into Army career pathways. The 16 finalists were also awarded a total of $3,500 for their achievements.
A senior computer science major at FSU, Royal earned the top prize for her project, "AI For Independent Surveillance Missions (ASIM)." She conducts research in FSU's Intelligent Systems Lab under the guidance of Sambit Bhattacharya, Ph.D., professor in computer science and ISL director.
"Deneen is an inspiration to our students. She has excelled at applying her education and research skills to proposing technical solutions that can solve urgent challenges facing the U.S. Army," Bhattacharya said in a press release. "Deneen's journey demonstrates how we can prepare students for success by adding value to classroom education through immersion in hands-on projects and research. At ISL, we are working on use-inspired research supported by collaborations with industry and government labs."
A student in FSU's Department of Biological and Forensic Sciences, Shirley Jacquet received $2,000 for her third-place project, "QTL Mapping and Correlation Analysis of Amino Acids Contents in Soybean [Glycine max (L.) Merr.] Population."
"Shirley is a role model for student success at FSU," said Jacquet's research advisor, Jiazheng (John) Yuan, Ph.D., assistant professor and assistant chair in the Department of Biological and Forensic Sciences in FSU's Lloyd College of Health, Science and Technology, in a press release. "Her research and development of soybeans with proper concentrations of essential amino acids will lead to an alternative food source or supplements to help decrease mental and physical recovery time for soldiers training for high intensity missions. Shirley's research is the successful collaboration with Abdelmajid Kassem, Ph.D., professor of plant biology in FSU's Department of Biological and Forensic Sciences, and several other institutes across the nation, aimed at delivering a balanced diet for military service members to improve brain function, protein turnover and energy metabolism during a soldier's exercise regimen."
FSU senior Amani Valines presented her research, under the guidance of Jiazheng (John) Yuan, Ph.D., assistant professor and assistant chair in FSU's Department of Biological and Forensic Sciences, focused on deciphering the characteristics of SARS-CoV-2 sequences. This work was also a collaboration with Eid Haddad, Ph.D., associate professor of physiology in FSU's Department of Biological and Forensic Sciences.
"Amani's research in the sequence analysis aimed to help us make a quick prediction on the next steps facing the pandemic and help the Army implement strategies for disease management such as mask mandates, lockdown or development of detection assays," Yuan said in a press release.