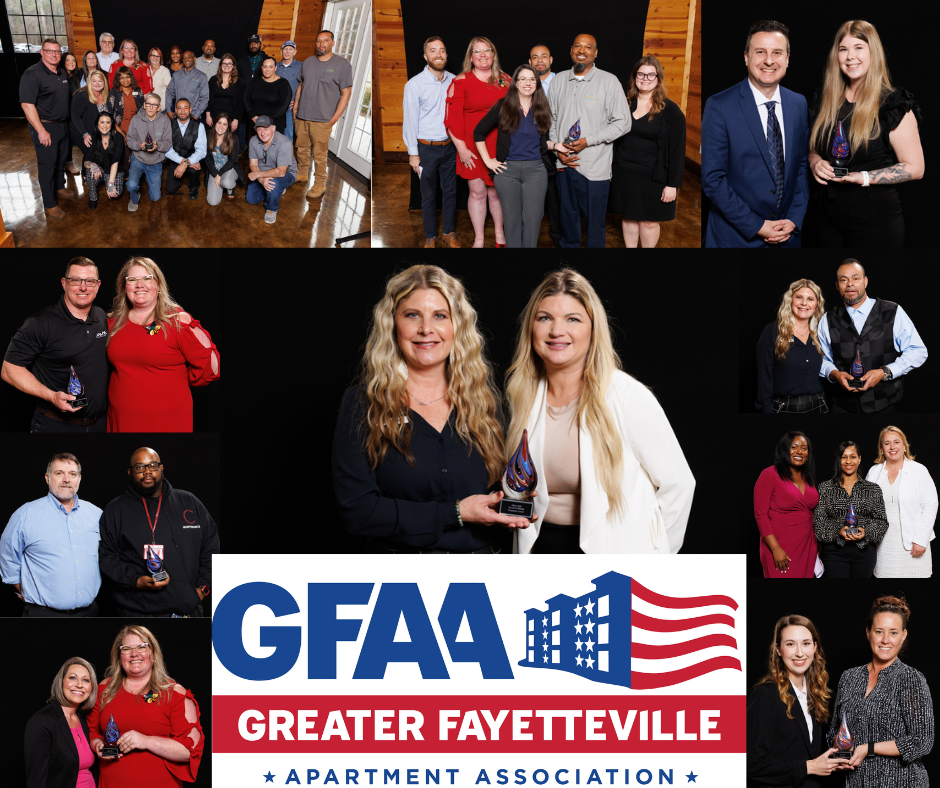 Members of the Greater Fayetteville Apartment Association came together to tally their votes and give recognition to their members at the 2022 Starlight Awards.
The awards are used as a way to recognize and reward association members for their success in the local housing industry. With a total of 10 categories ranging from two to eight nominees each, the winners were awarded at the 2023 Starlight awards luncheon held in mid February. The winners are as follows:
Regional Manager of the Year: Lisa Ford, Morgan Properties
Community Manager of the Year: Jennifer Pittman, Keystone Apartments
​Assistant Community Manager of the Year: India Pettiford, Reserve at Carrington Place
Maintenance Supervisor of the Year: Darbin Richardson, Keystone Apartments
Maintenance Tech of the Year: Courtney Cooper, The Cole Apartments
Leasing Professional of the Year: Cambria Craig, Addison Ridge
Supplier Partner of the Year: Chris Bryan, Jerry's Painting Services, Inc.
Community of the Year: Addison Ridge
Rehab of the Year: Keystone Apartments
Team of the Year: Apartment Dynamics
The President's award was presented to GFAA Board Member Brenda Leidholdt, BluSky Restoration Contractors, LLC.
According to Leidholdt, the award recipient is chosen by the president of the organization, Heather Gonzalez, instead of being decided by a vote of the organization's members.
"I was completely caught off guard and it was a huge, huge honor just because it came from her and she just said some very nice things about me. Just that I always have a smile on my face and I'm always positive and just willing to help out. And I've been on the board I think for about seven or eight years," shared Leidholdt. "I love volunteering my time, I do. I'm involved in other charities too, outside of the apartment association. So, with my job, I kind of get to do that and get to meet a lot of people but honestly, it feels good to help people that are in need and I have a lot of good friends that are involved in charities in the Fayetteville area, like the United Way and so, I just really like to help and it really makes me feel good."