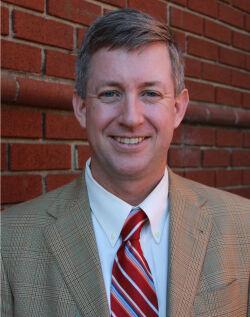 Sandhills Community College will have a new leader starting in July of 2023.
The Sandhills Community College Board of Trustees has announced the appointment of Alexander "Sandy" Stewart, Ph.D., as its new President, the third in the college's history.
Stewart is a Moore County native who has been assistant commissioner of agricultural services at the N.C. Department of Agriculture and Consumer Services since 2018. He holds masters and doctoral degrees in crop science from N.C. State University.
Stewart previously directed the state agriculture department's research stations division, which is responsible for managing 18 agriculture research facilities in partnership with N.C. State and N.C. A&T State universities. He has also been a faculty member as an extension tobacco specialist at N.C. State and as an extension cotton specialist at Louisiana State University and has managed crop research in the private sector.
Stewart is an elder at Union Presbyterian Church and lives near Carthage on his family's working farm of nearly 250 years. He previously served on Sandhills' Board of Trustees.
The search committee shared the following statement in an online post announcing the new President:
"It is with a great sense of optimism and with gratitude to the Sandhills Community College Board of Trustees Presidential Search Committee, the State Board of Community Colleges, and the North Carolina Community College System that SCC announces the new President of Sandhills Community College!
Dr. Alexander "Sandy" Stewart will assume the mantle as President on July 1, 2023, filling the role with the same sense of purpose and commitment that Dr. Dempsey – and Dr. Stone before him – provided to this College and this community for almost six decades.
Finding our third president has been an arduous challenge these last five months, but our Trustees, led by George Little and Larry Caddell, have successfully navigated another outstanding presidential search—a testimony to the steadfast leadership that has guided this institution for over four of its six decades.
We know that Dr. Stewart will be excited to get out into the community and meet everyone. Stay-tuned for Dr. Stewart's first formal and social functions on campus."