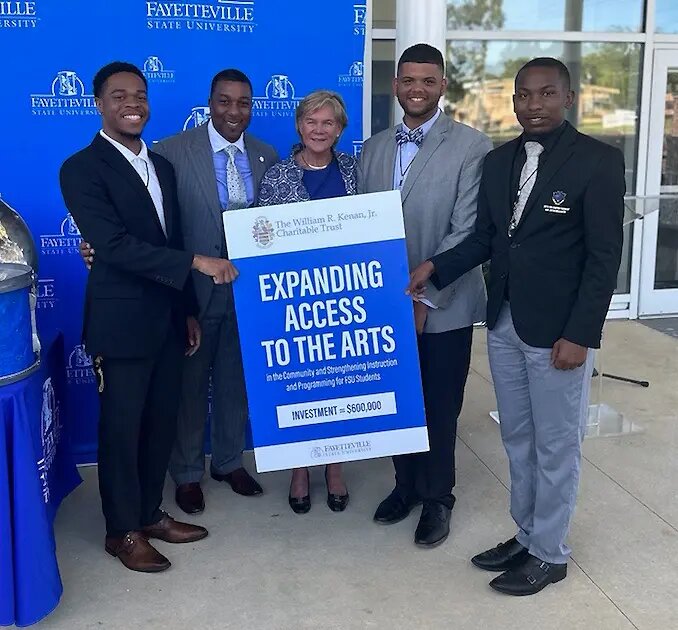 Fayetteville State University has received a two-year, $600,000 grant from the William R. Kenan, Jr. Charitable Trust to support and expand performing and fine arts education in the College of Humanities and Social Sciences, Department of Performing and Fine Arts.
The grant will also enhance the university's capacity to support community partnerships in the arts, such as the Music in Schools and Art in Schools programs in Cumberland County Schools and provide scholarship support to FSU students. It will also help broaden access to performances and exhibit offerings to the community at large.
FSU Chancellor Darrell T. Allison announced the grant today, Aug. 8, at a 10 a.m. event at the Seabrook Auditorium on the FSU campus.
"We are honored to partner with the William R. Kenan, Jr. Charitable Trust to better meet the needs of our performing and fine arts students and to serve our broader community through expanded arts education and cultural offerings," said FSU Chancellor Darrell T. Allison, J.D. in a press release. "Through this collaboration, we anticipate significant growth in the number of students enrolled in our performing and fine arts degree programs and look forward to bringing a broad range of renowned performances to our campus and the surrounding area. The arts are transformative, and we are deeply grateful for Kenan Charitable Trust's generous investment to promote learning and personal growth in and outside the classroom."
"Fayetteville State University's performing and fine arts vision for this gift is very well-aligned with Kenan Trust's priority to help meet the needs of the community through arts and culture and higher education," said Kenan Trust's Executive Director Nancy J. Cable in a press release. "Given Fayetteville State University's regional influence in the Sandhills Region, we believe that our investment will help be a catalyst for cultural and educational opportunities in these important communities. The William R. Kenan, Jr. Charitable Trust is dedicated to improving lives by helping and educating people, particularly in underserved communities. Simply, we are excited to be able to help further FSU's reach."
Grant funding will support scholarships for students studying music, dance, theater and visual arts, or those studying to teach these subjects in K-12 schools. Funding will also support adjunct faculty and guest artists/instruction in high-demand fields; help bring renowned performing artists (musicians, dance groups) to the area; provide instrument repair, acquisition, and rental for student use and support guest artists' needs; provide specialized equipment for visual and digital arts programming and instruction; provide theater production support, including technology and equipment; and support artists in the school's programs to bring art education and immersion programs to schools in low-income communities.
"We are immensely grateful to the William R. Kenan, Jr. Charitable Trust for their vision and this critical investment in the cultural and academic enrichment of our university and community," Marcus S. Cox, Ph.D., dean of FSU's College of Humanities and Social Sciences, said in a press release. "This support will have a profound impact on our capacity to offer students high-quality fine arts curricula, to prepare more students for careers in performance/fine arts fields, and to increase access to a wide range of cultural arts experiences for the entire community."