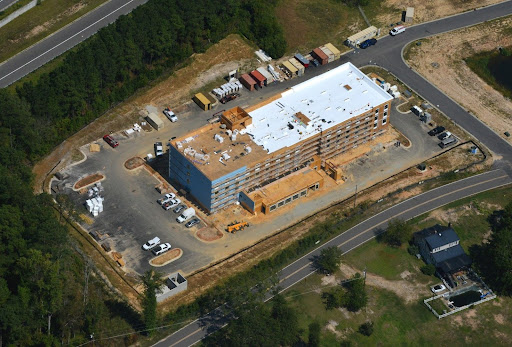 Pinkerton & Laws has a new project under construction as progress continues on a new Home2 Suites hotel in Fayetteville on Ramsey Street.
The company is currently working on the installation of the roofing system, exterior envelope system and installation of MEP rough-ins. It's scheduled to be completed in the second quarter of next year. When completed this property will be a four-story hotel featuring 109 guest rooms.
This is Pinkerton & Laws' third construction project in Fayetteville. Their two previous projects were for the same client who has seen great success running hotels in the Fayetteville area.
"I can tell you the hotels we've built up there and talking to the owner have done phenomenal...it's a great town, great little town, charming, and the people there have been really accommodating and great to work with," shared Vice President of Pinkerton & Laws Grant Ward.
Pinkerton & Laws will also be building a TownePlace Suites hotel by Marriott in Lumberton, NC. This construction project is for a repeat client who is a developer based out of Atlanta.
The hotel will sit on two-acres of land and stand five stories tall with 107-units. Construction is scheduled to start in the fourth quarter this year. The anticipated completion period for the hotel is the first quarter of 2024.
Both the Fayetteville site and the Lumberton site are about 55,000 square feet according to Ward. Ward also confirmed that both hotels are efficient, extended stay brands.
Pinkerton & Laws is a Southeast Regional company conducting work up and down the eastern seaboard. According to their website, Pinkerton & Laws is nationally recognized as a leader in "multi-unit"​ construction.