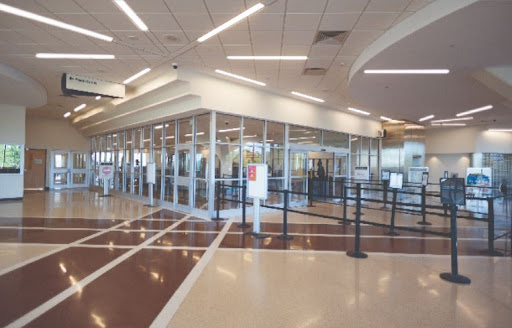 Staff, city leaders, and the public came together for a public unveiling at the Fayetteville Regional Airport on Wednesday Dec. 7 to celebrate the completion of construction Phase II renovations to the facility.
New renovations included expansion of the facility with several new and updated amenities including the terminal entrance canopy and signage, enhanced security screening checkpoint area, reconstruction of the rental parking lot, Concourse B upgrades, new airline offices and counter spaces, new escalators, and elevators, upgraded baggage claim wings and new administrative offices.
The safety, security and experience-focused renovations were made possible through grants from the Federal Aviation Administration, State of North Carolina, and Airport Fund Balance. According to the City of Fayetteville, none of the more than $37 million in funding used for the renovations came from tax based General Fund Dollars.
"The infrastructure improvements we've made at the Fayetteville Regional Airport provide for an even better airport experience from the parking lots to the airline boarding doors. These include improved circulation within the building, improved safety and TSA screening enhancements, ADA upgrades, and an upgraded restaurant and USO areas," said Airport Director Dr. Toney Coleman in a press release. "We aim to keep FAY the choice for regional travel and know an exceptional resident experience in both services and facilities makes a difference."
The unveiling took place right before the holiday travel season, meaning future guests will be able to experience the renewed airport while traveling.
Phase II of terminal renovations began in 2020 following the completion of Phase I which added four new jet bridges, a complete demolition and rebuild of Concourse A, a new restaurant and utility upgrades and improvements to PWC transformers totaling $45 million.
Mayor Mitch Colvin stated in a short speech to attendees that more improvements are hopefully in the works.
"And while we celebrate today we are now preparing and yet preparing for what's next. Future renovations could up fit existing space for new opportunities, replacing the roof and in installed façade signage and add concourse sitting to the floor are things that are to come," said Mayor Colvin. "Our airport is one of the most important entry points of the city and a driver of our regional economy. I can do cities should be a destination for businesses, travelers. And families in this airport will be a hub and a connection to all of that."