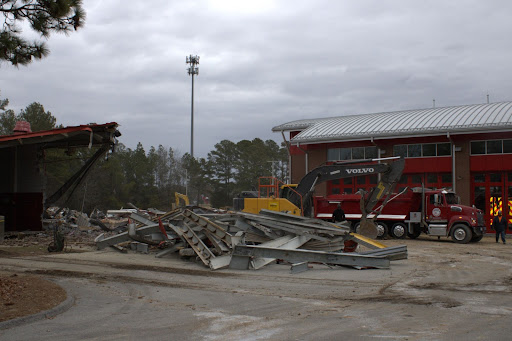 The Hope Mills Police and Fire Departments are settling into their new home at the John W. Hodges Public Safety Center located at 5788 Rockfish Road.
According to a newsletter issued by the Town of Hope Mills, a temporary certificate of occupancy for the new safety center was issued in November 2022, although the building still needs a bit more work before being complete.
As safety officials settle into their new home, one of their former bases is being torn down.
Following the successful move out of the department, demolition began on the old Hope Mills Fire Department building on Jan. 23.
According to the Town, the former fire station, fire department parking and bay access were scheduled in 2022 for demolition as a part of Phase III of the Public Safety Center project, and will include landscaping, and the parking lot expansion for Hope Mills Town Hall/Parks & Recreation Center.
Once the Hope Mills Police Department has completed their move and are fully operational in the new facility, the temporary Police station on S. Main Street will be occupied by North Carolina Alcohol Law Enforcement.
The completion of the entire project is currently scheduled for May of 2023.
Update Jan. 27, 2023:
Mayor of Hope Mills Jackie Warner responded to the Greater Fayetteville Business Journal's request for comment by offering the written response below:
"Our Charles W. Hodges Public Safety Center is near completion. The police and fire departments have moved in and are getting acclimated to their new home. This state of art building will be open to the public soon however there is still much to be done on the outside. Our old fire department is being torn down with many memories going with it— many firemen and citizens were seen taking pictures and making one last walk-thru of the building. We will have a new parking lot for the Public Safety Center to include the area behind Town Hall and our Parks and Recreation Building which will benefit from this additional parking. Sometime soon we will have a ribbon cutting and an open house— we want it to be finished and perfect before we schedule the event. Our town staff and board of commissioners have done an outstanding job to oversee this public safety building that will be grow with our town. Our Police and Fire Department will have technology and space to serve our community with pride."