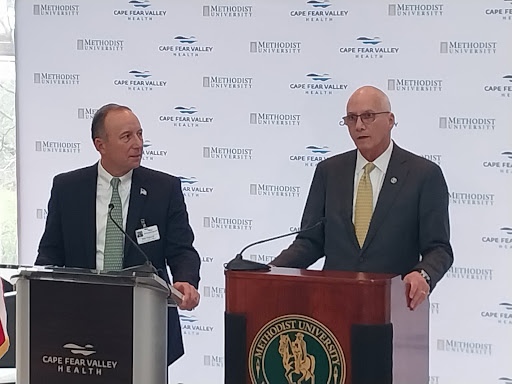 Methodist University and Cape Fear Valley Hospital announced today that they have partnered to create the Methodist University medical school, to be located in a new facility at Cape Fear Valley Medical Center.
This partnership and school will be transformative to the Fayetteville/Cumberland County region and have a mission that focuses on providing better medical care for rural and underserved populations and diversifying the MD workforce.
Additional details were shared at a press conference today. Methodist University President Stanley T. Wearden and Cape Fear Valley Health CEO Mike Nagowski were featured as speakers.
"A medical school will be a tremendous asset to Fayetteville, Cumberland County and the region. It will attract new health care professionals and new areas of medical specialization. It will improve the quality of health for people in this region. And it will attract new businesses, all ancillary businesses to health sciences and medical health. It will bring in new taxpayers, new homebuyers, new individuals to buy the goods and services in this region. It will elevate the economic well being of this region," remarked Wearden during the press conference.
Wearden also shared data collected from a study done by Cape Fear Valley Health Systems commission which estimated that in the first 10 years alone, a new medical school will add $750 million to the regional economy.
"Number one in our mind is population health…Wherever there are academic medical centers, partnering with universities to produce physicians and clinicians, the overall health of the population continues to improve," added Nagowski during the press conference.
Classes are set to begin in July 2026. They aim to start with 80 students per year with the intention to grow to 120 students per year.