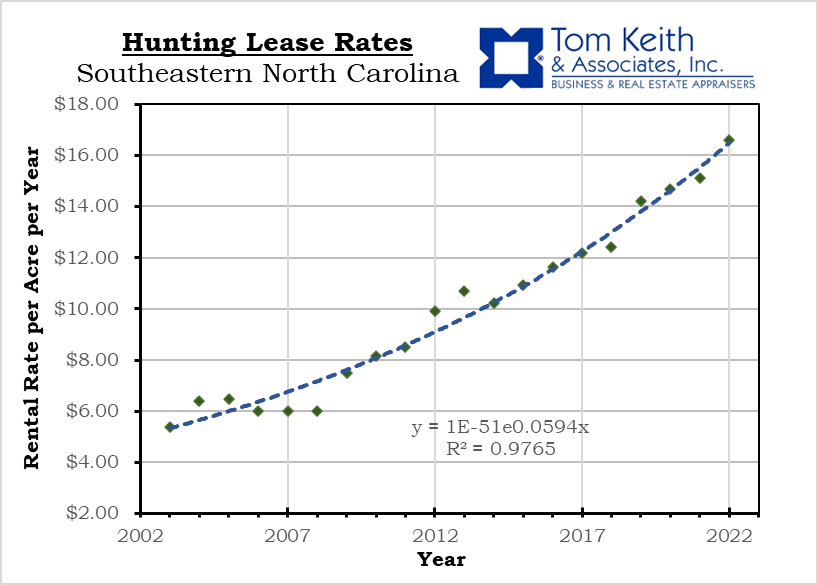 Hunting is a popular pastime and family bonding experience in North Carolina; however, finding hunting land to lease is becoming more difficult and the prices are noticeably increasing every year. Based on the actual rental rates collected from a portfolio of rural hunting land in Southeastern NC (Cumberland, Bladen, Pender, and Robeson County), the demand for hunting land has increased exponentially over the last 20 years. In the real estate appraisal and consulting business for more than 50 years, we at Tom Keith & Associates, Inc., pride ourselves on our ability to research, organize, and analyze real estate data. So, first we will give you a breakdown of the historic cost increases of hunting land, then deliver some good news for both hunters and landowners.
The portfolio, consisting of a myriad of hunting tracts of various size and quality, indicates an average growth rate in rental rates of about 6.00 percent per year. It should be noted that these rental rates did not take into account vacancy or seasons in which the land went unleased, and only indicated the rental rates of the tracts that were leased. Between 2002 and 2016, we saw the vacancy rates on this portfolio drop from 50 percent to zero, with the above portfolio not having a single vacancy in the last seven years. Over the last few years, our firm has been inundated with requests to lease tracts that are already leased with offers to pay upwards of $20.00 per acre in this market.
Impacting the scarcity of available hunting land are technological and natural trends. When I first began managing the leasing of hunting land, the marketing and advertising of available land was purely word of mouth among relatively small groups located in close proximity to the tract of land being leased. Today, modern technology has enabled hunters to lease land more efficiently than ever before. The hunting land advertised on our firm's website (www.keithvaluation.com) receives over 10,000 views per year, putting traffic in the middle of the range with many other listing firms across the county.
We've also seen a shift in how far lessees are traveling to the hunting land they're leasing. Whereas in past years the majority of hunters lived in the immediate vicinity of the hunting land, many hunters now live two to three counties away and travel to the land from larger metropolitan areas. Part of the reason for this is the outward development of large cities like Raleigh and Wilmington, which has decreased the availability of nearby hunting land. However, there is some good news for those seeking available land for their sport. The overall number of hunters in North Carolina appears to be falling slightly (according to data from N.C. Wildlife).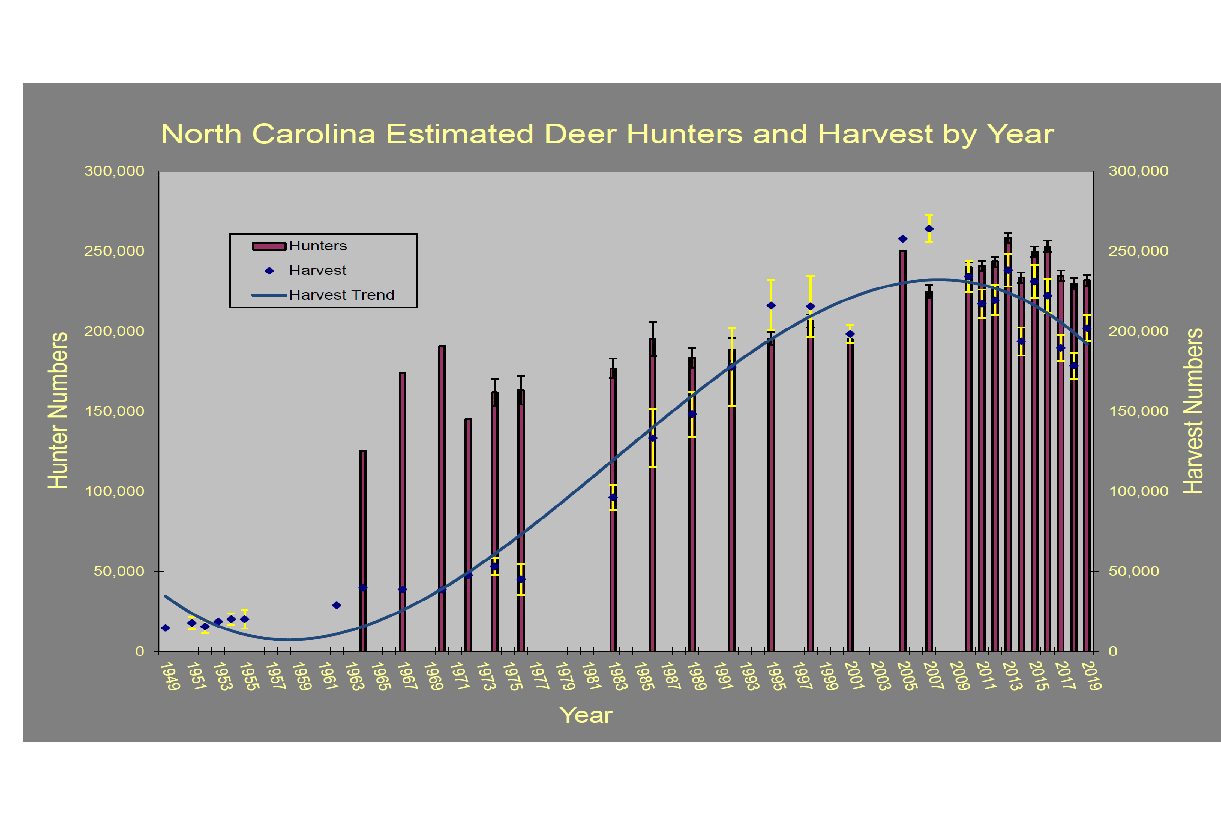 Chart and Data by NC Wildlife (www.ncwildlife.org)
This slight fall in the number of overall hunters in the state suggests hunting land leasing rates may plateau at the $20.00 per acre price noted above for the local Southeastern N.C. counties of Cumberland, Bladen, Pender, and Robeson. However, the continued development of subdivisions, commercial, and industrial sites at historic rates may keep pushing land leasing rates higher. Given historical trends, we know that the value of land and hunting leasing rates will eventually increase, the question is only the pace at which those rates will increase.
For those new to the arena of hunting land leasing, know that it is one of the best quid pro quo arrangements for landowners. With regard to the landowner/landlord, hunting leases supplement the taxes and insurance on the property and provide approximately a 0.25 –1.00 percent return on investment. The other major benefit to the landowner/investor is that the leased property will be looked after, maintained, and protected from trespass and theft. For the hunter/tenant, the benefit of leased hunting land is affordable access to a larger selection of hunting land at a fraction of the cost and risk of purchasing a large tract of land. The benefits of this reciprocal relationship between hunter and landowner are such that our firm and investment companies have been helping to manage the leasing of hunting land for more than 50 years.