Company to focus on clean energy 'turnkey project solution'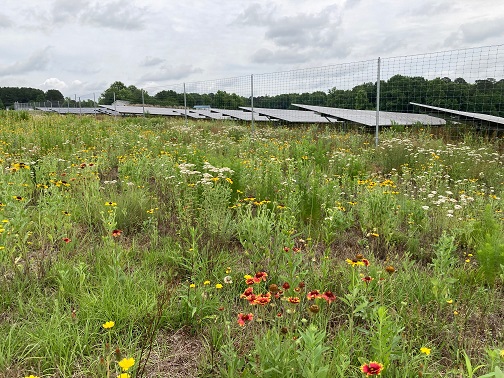 Two North Carolina-based companies have come together on a platform that is constructing solar projects across the nation.
Now one of the largest solar construction companies in the country is operating out of North Carolina, with a large portion of its employees in Fayetteville and other areas of the state.
Pine Gate Renewables, which is based in Asheville, has launched Blue Ridge Power, a new EPC company (engineering, procurement and construction) that will house Pine Gate's current in-house EPC operations.
In addition to that, Blue Ridge Power has acquired the solar division of Horne Brothers Construction, which is based in Fayetteville.
Pine Gate Renewables is a utility-scale solar company that provides renewable energy for local communities across the country. Horne Brothers Construction is known as one of the largest and highest-rated mechanical and civil contractors in the country; they have been in business more than 60 years.
Pine Gate Renewables previously announced the launch of its new EPC company via a press release issued May 17.
The Blue Ridge Power team will be led by CEO Chris Dunbar and a management team from the Pine Gate EPC team combined with senior leadership at Horne Brothers Construction. Jack and Charles Horne will remain with the company after the acquisition in strategic leadership roles.
"This strategic shift allows us to serve a broader market and cater to the needs of clients looking for a turnkey project solution," Dunbar stated in the press release. "With a completely integrated team we bring a very competitive product to the market. We're excited about the continued growth of the solar industry and the role that Blue Ridge Power will play in the ongoing energy transition for a cleaner planet."
Following the spinoff, Blue Ridge Power will have a continued partnership with Pine Gate, serving as their exclusive EPC contractor. Pine Gate Renewables expects to construct more than 5 gigawatts of projects over the next three years.
Dunbar said Pine Gate Renewables has focused on this transaction since last September, and the strategic initiative for spinning off the EPC for Pine Gate has gone on for more than a year now.
Pine Gate has worked with Horne Brothers and other companies for more than eight years; Dunbar said Pine Gate officials have always thought very highly of the Horne Brothers team.
"We just couldn't be more impressed with the company that they've put together," Dunbar said. "The fleet of equipment and the talent that they've been able to assemble allows us to execute at the scale that we're looking to execute at, which is roughly a gigawatt of solar install per year."
Pine Gate Renewables CEO Ben Catt said Pine Gate will utilize Blue Ridge Power for all projects it is developing and financing (and ultimately working) with Blue Ridge to construct.
"Two North Carolina-based companies coming together and forming this national platform is really…a cool thing to see," Catt said.
Catt said in the press release that Pine Gate looks forward to the continued partnership.
"We look forward to a long and prosperous partnership with the team at Blue Ridge Power to execute our solar construction projects across the country," he said.
Pine Gate Renewables constructs large solar grid farms in open fields. Pine Gate has established hundreds of them across the country. All of its projects connect to a utility grid, but the company is exploring private partnerships where it would build farms that generate energy for individual corporations, according to Tami von Isakovics, director of communications at Pine Gate.
In some situations, energy produced by these solar farms is purchased by utility companies; Pine Gate will build these farms and then contract with the utility companies to buy the energy produced by the farms, and then that energy goes out to that utility company's retail customers.
There are other situations where Pine Gate sells directly to corporations and individual buyers who are interested in their company having a green footprint.
An individual large-scale solar farm equals anywhere from 20 to 100 megawatts. A gigawatt equals 1,000 megawatts.
As a combined entity, Blue Ridge Power has more than 5 gigawatts across an eight-year span of utility construction experience. It has 700 megawatts currently under construction with 2,500 megawatts forecasted within the next year or so.
Blue Ridge Power will operate from its headquarters in Asheville and maintain other offices in Fayetteville and Charlotte, as well as Midland, MI. The company has a national footprint with more than 370 projects across 17 states from Oregon to Massachusetts.
Catt said Pine Gate and Blue Ridge Power are looking forward to doing a lot more in the future.
"The companies will continue to get larger and that is a positive for everybody when we're hiring more folks," Catt said.
Pine Gate Renewables was represented by Gibson Dunn on the transaction. Truist Securities, Inc. served as financial advisor to Horne Brothers Construction and Smith Anderson provided legal representation.