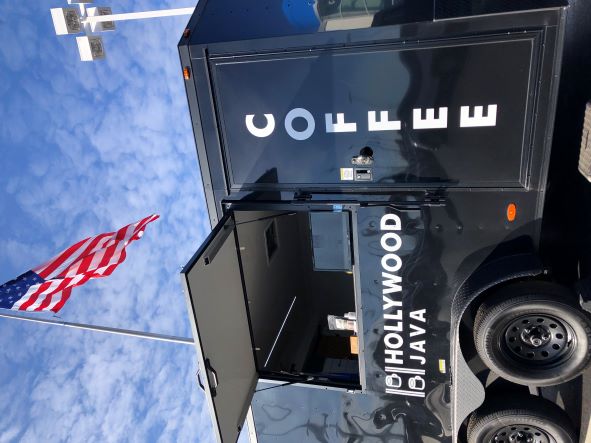 Dalton and Patrice Carter met and fell in love over coffee 13 years ago. Now, they're the owners of a thriving mobile coffee bar.
Hollywood Java started in 2018 as a pop-up coffee shop and has since evolved into a mobile coffee bar. Owned and operated by husband and wife Dalton and Patrice Carter, Hollywood Java's mission is to build community around specialty coffee.
Dalton, nicknamed "Hollywood," and Patrice, nicknamed "The Good Doctor," are filmmakers and Army Veterans with a passion for engaging with their community. Dalton shared that while filmmaking is his passion, he was looking for a job to do in between creative gigs. Through taking barista courses, Dalton's initial love for coffee grew into the desire to start a business.
"One thing about me and Patrice, we travel a lot and when we do travel, we try our best to frequent local coffee shops. We try to avoid the chains…we want to go where the locals go and talk to the baristas and the owners and typically, that's always a great experience. So not only do we seek out great coffee but we seek out great experiences with the owners and baristas. So that's something that going forward we wanted to kind of provide for the community as well with not only great coffee, but a great customer experience," shared Dalton.
As their business grew in popularity they were able to raise money for a trailer from a crowdfunding campaign and graduated from their pop-up business model to the mobile coffee bar that they run today.
The trailer allows Dalton and Patrice to bring their business to new communities, taking their brand to other North Carolina cities and even other states like South Carolina and Georgia.
"We love catering. That's kind of like our big thing, that and outreach," shared Patrice.
Dalton expanded on this sentiment expressing the joy that he and Patrice feel in forming relationships with the people they cater for. "We love everything we do, but we especially love catering because it kind of changes the dynamic of how we work and interact with the people we serve…with the catering it's just more networking, it's connection…"
Dalton and Patrice share the responsibilities of running the business. Patrice takes on a large portion of the administrative aspects of Hollywood Java while Dalton takes the lead when it comes to preparing the drinks.
"One of our biggest goals is to continue to push the idea of specialty coffee in the community... We carefully source our beans. The roaster that we use, they have a direct relationship with the farmers to the point where they actually visit the farms. So the coffee beans go from the producers, to farmers, to roasters to our hands, so it's only two or three hands removed from the customer, and it makes a difference…" shared Dalton.
Their coffee is locally roasted by Carrboro Coffee Roasters and they use manual brewing methods to keep the quality of their product consistent.
The future is bright for Hollywood Java as the owners continue to build upon what they've got and imagine further successes for the business.
"We're talking about franchises. We have customers all the time, I can't even count the number of people that say 'I would love to own a coffee business' or 'I want to own a coffee business,' and so we want to just sort of do a deeper dive into looking at franchising and multiplying what we currently have, in addition to educating our clients and interacting with our clients. So the goals are, I would say, multiplication, education and interactivity, by way of specialty coffee," commented Patrice.
"We do weddings, wedding receptions…we've done military events, employee appreciation, so any opportunity that any business or event will bring us out for them to experience our specialty coffee we would love that…and [we're] hoping to grow our business in that regard this year," added Patrice.
Dalton and Patrice are grateful for the community support they've received over the past several years and look forward to continued growth.
To learn more about Hollywood Java and to find out where their mobile coffee bar will be next visit their Facebook page: @hollywoodjavanc.