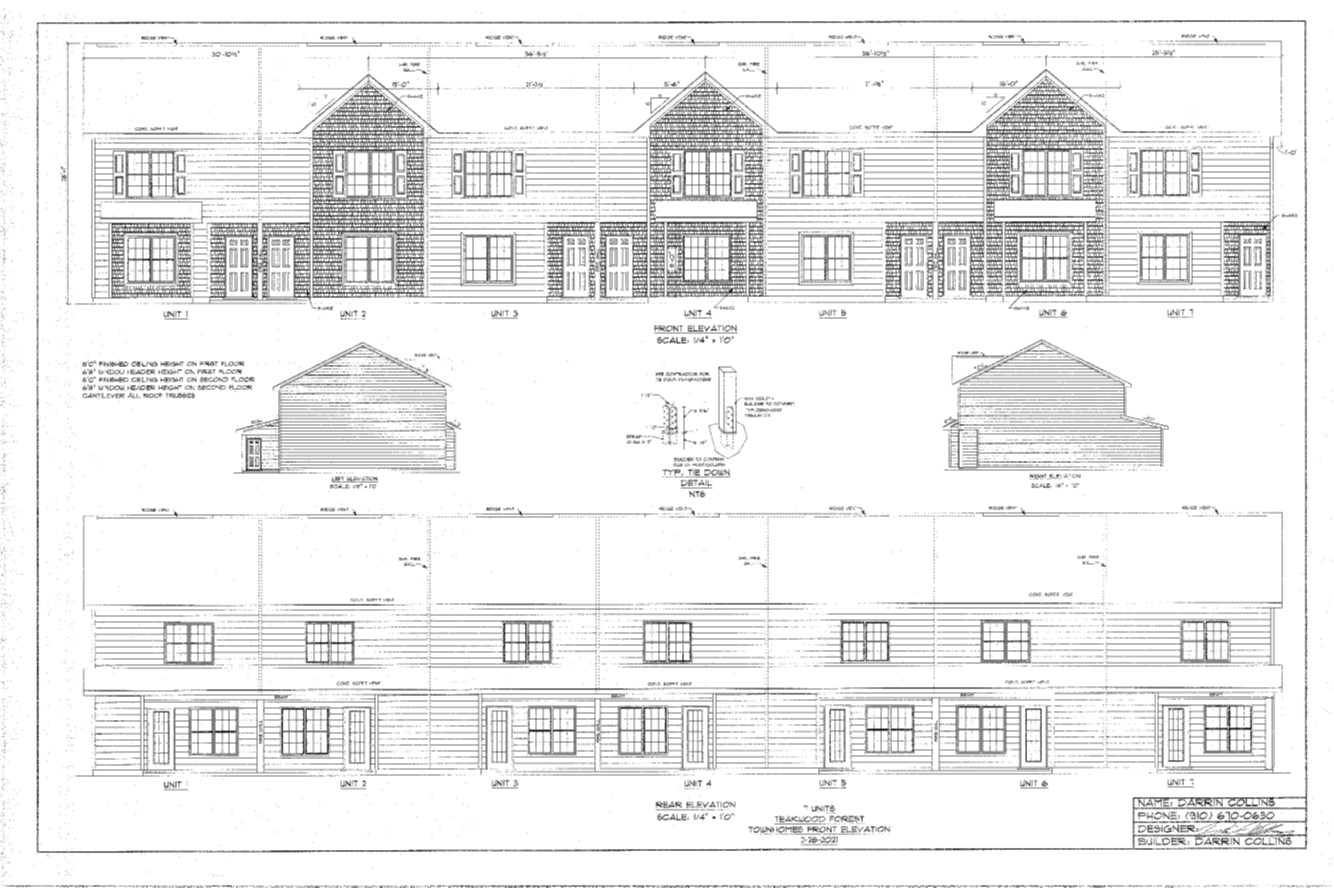 A new community of townhomes is coming to 7009 Fillyaw Rd after the Fayetteville City Council unanimously approved the conditional rezoning of 15.14 acres of land during their city council meeting on Oct 24. Plans are in progress to build up to 125 units on the space.
The owner of the property, Darrin Collins with Alternative Investment Holdings, Inc. put in an amended request for rezoning to switch the area from a Single Family 6 District, which specifies an area is meant for single family detached residencies and small scale multi family dwellings, to a Mixed- Residential 5 Conditional zoning. According to city records, MR-5 zones are meant to accommodate "A wide variety of residential housing types at moderate to high densities."
AIH changed their original request from 160 units to 125 units per acre in an attempt to get approval. Documents submitted for Council consideration show plans for multi story townhomes with areas on the western side of the property to be left undeveloped to allow for a buffer.
Senior Planner with the City of Fayetteville Planning & Zoning Division Craig Harmon presented the request details including the, current zoning map, residential areas surrounding the property and how they are currently being used, and how the new proposed zoning fit into the Future Land Use Map & plan adopted by the City on May 26, 2020.
The Zoning Commission recommended approval of the map amendment finding the proposal was in line with pother zoning attempts on the property, and there were no other factors that substantially affected the public.
According to Harmon, this is the 4th time the property has been up for rezoning in 14 years.
Jonathan Charleston, with the Charleston Group Lawyers, spoke in favor of the approval on behalf of Alternative Investment Holdings Inc.
"As the council knows there is about a 20,000 unit shortage of housing in our community. It's no question that there's a shortage of affordable housing…As I state frequently, all property owners seek the highest and best use of their property. And in this case, my clients are no different," began Charleston. "Now what I will say, very briefly, is that this case has been for city council a number of times, not with this particular owner, but what I will say is that land use restrictions in many instances have made it more difficult for developers to find sites within the city. It's not only a housing shortage, it is a real property shortage, a dirt shortage pursuant to which you can build housing on. So, as stated a shortage of development sites, and the surging land prices, along with high construction costs, mean developers haven't been able to build enough housing to keep up with the demand in our community."
One resident, William Fisher, attended the meeting intending to speak in opposition, but after learning the number of proposed units had been reduced to 125, changed his mind.