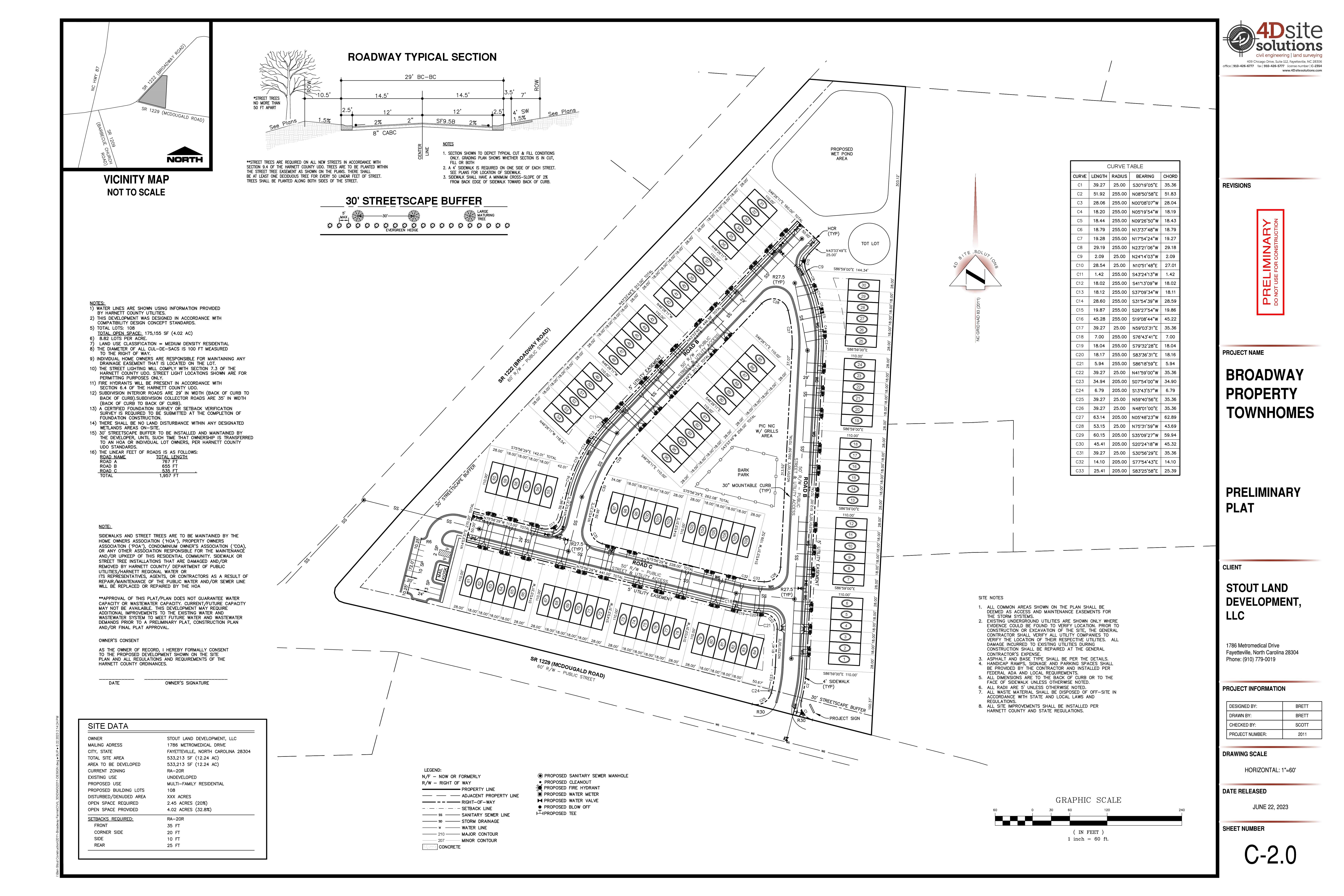 The Harnett County Board of Adjustments recently signed off on the site plan for a 108 unit townhouse project.
Broadway Farms, a new development of townhomes, is set to be built at the edge of Harnett County next to the recently constructed development of single-family homes in West Preserve.
Ben Stout, Wells Alderman and Jamie Godwin are the developers for the property under their company AGS Land, LLC.
Stout shared that the individual units will feature three bedrooms, two and a half bathrooms, a single car garage and will be somewhere between 1400 and 1500 square feet in size. There will also be other community amenities such as a tot lot and a dog park for future residents to enjoy.
Stout shared that as of now the plan is to make this a for sale product so residents would be buying the townhomes rather than renting them. However, Stout shared that it is not yet decided whether they will proceed with the project as the end builder or end up selling it to another party. The latter option might result in a different outcome.
Stout shared that it will be about 12 to 15 months before construction can begin. Immediate next steps for the property include working with an engineer to get the property surveyed, obtaining all necessary entitlements and permits and work on utility plans. The final product is predicted to be completed and ready for residents anywhere from 24 to 36 months from now.
With the development being conveniently located between Raleigh and Fort Liberty and promising affordable price points, Stout predicts it may attract some soldiers seeking home ownership. As of right now Stout predicts the pricing for the units, if the plan for them to be for sale is carried out, will be somewhere in the $260,000 to $280,000 range.
This area as a whole is experiencing a lot of growth.
"That kind of 87 to US 1 corridor is really just, over the upcoming years, it's really a growth corridor that not just ourselves, but there's obviously a lot of big national builders that are lining up to kind of get in that area…that was kind of the attractiveness to it is [its] close enough to Lee County but still on Harnett County, good address, right near a civilized location where there's already a little bit of commercial with the Dollar General and I think a Hardee's there, so we think it sets up to be a successful project," remarked Stout.