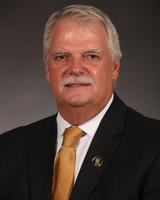 STEWART THOMAS, a UNCP professor, has been selected by the UNC System as a recipient of the 2022 Award for Excellence in Teaching.
In his career at UNCP, Thomas has served in a variety of roles, including vice chancellor of Finance and Administration, interim associate provost, associate and interim dean of the School of Business. In 2020, he returned to the classroom.
"I missed the students. I wanted to be involved in their lives. It's the students and those professors and colleagues that I've learned from in the past. They are the true recipients of this award. Without them, I would have been nothing in the classroom.
"My proudest moments are witnessing the accomplishments of my students. I still engage with those students from that first year ... I am proud to watch students mature at UNCP, but it means a lot more when you see how they mature and develop through their education and then mature as businesspeople as well."