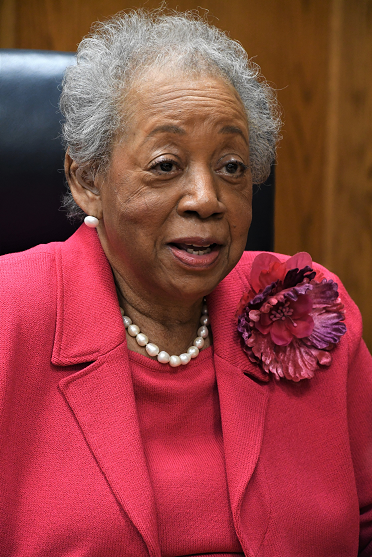 Fayetteville Technical Community College has named Dr. Marye J. Jeffries as an honorary trustee of the school.
"The designation of Honorary Trustee recognizes an individual for exceptional service and support of FTCC through the years," a press release from the school said.
Jeffries served on the Board of Trustees for 26 years. For four of those years, she served as the board chair.
Jeffries served on FTCC's Board of Trustees from 1992 until 2018. She served as Board Secretary from 1993 to 2004 and as Board Chair from 2004 through 2008. Jeffries played a key role in the installation of the College's two most recent presidents, Dr. Larry B. Norris in 1997 and Dr. J. Larry Keen in 2007.
"I became a real advocate of community college serving here and seeing what it could do and the impact it could have on students," Jeffries said. "Community college is just a wonderful, wonderful option for students and Fayetteville Tech has always been a leader."
Aside from her work with FTCC, Jeffries has exhibited her advocacy for education throughout her life.
She began her teaching career in Tacoma Washington before moving to Fayetteville in 1963. THen, she taught elementary school. She was the first African American teacher at Vanstory Hills Elementary School in Fayetteville and earned her Master's degree in Education while working at Vanstory.
In the 70s, Jeffries became an associate professor of education at Fayetteville State University.
After earning her Doctorate in Education Administration and Supervision from UNC-Chapel Hill and and holding multiple positions at FSU, Jeffries was appointed in 1995 as Associate Vice Chancellor of Academic Affairs. She was the first African American female to hold that position. Dr. Jeffries retired from FSU in 1998 but remained extremely active in her community.
Jeffries community involvement speaks to her love of the area. She has chaired the Arts Council of Fayetteville/Cumberland County and the Cumberland County Auditorium/Arena Commission (now the Civic Center Commission); served as a member of the Fayetteville Chapter of The Links, Inc., an international women's service, as well as on the Executive Council and as its president; and she has been the recipient of prestigious honors such as the Order of the Long Leaf Pine and the Old North State Award. In 2011, she was honored by Fayetteville State as an Outstanding Black Woman in American Culture and History.
FTCC President Dr. Larry Keen praised Jeffries for her dedication and leadership at the school and in the community. "She has done such a remarkable job in so many ways," he said. "We have all benefited and learned so much because of her."
The designation is close to the heart of Jeffries, as the school named the very first of its honorary trustees during her service on the board. "To join that illustrious group is a great honor for me and my family," she said. "I'll always have a place in my heart for Fayetteville Tech. I love the school. I love the people…. I just thank you so much."