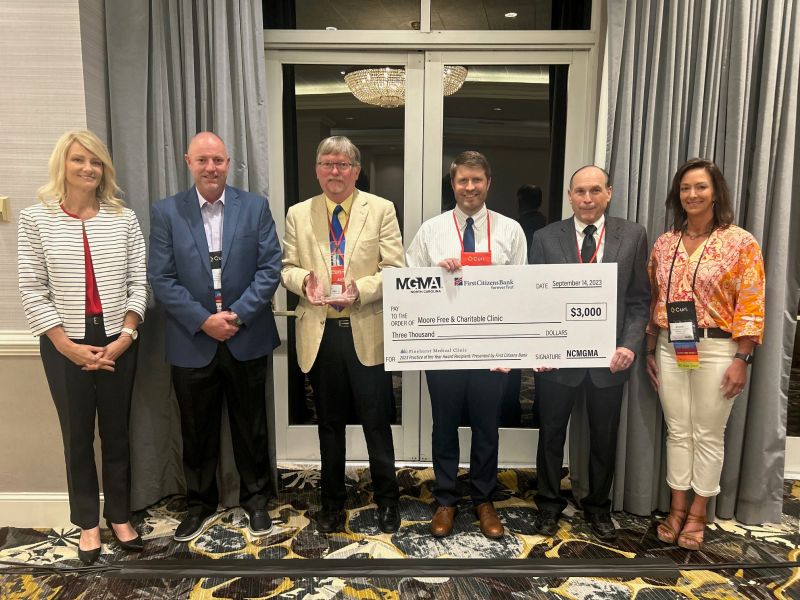 Pinehurst Medical Clinic was named the 2023 Annual North Carolina Medical Group Management Association (MGMA) Practice of the Year.
The award was presented to Pinehurst Medical Clinic during the 2023 Fall Conference, held Sept. 13-15, at the Grandover Resort & Spa. Along with the award, PMC was presented with a $3,000 check to their charity of choice: Moore Free & Charitable Clinic.
The Clinic took to social media (here) to share the achievement stating:
The Practice of the Year Award recognizes a medical group practice that makes significant contributions to its community, patients, and staff through volunteer work, fundraisers, staff wellness programs, community clean-ups, and community screenings and education. Pinehurst Medical Clinic has provided medical care to the Sandhills region of North Carolina since 1952 and has been committed to bringing the vision of its founder Dr. Joseph Hiatt, "to give the people of Moore County and surrounding counties the best medical treatment available, anywhere," to life. With this vision, PMC has developed service lines and healthcare programs that address the specific needs of the communities the organization serves.
As part of this recognition, PMC had the opportunity to provide a donation to the charity of its choosing. PMC selected the donation to go to Moore Free & Charitable Clinic to help support its vision of creating a healthy community by providing healthcare to the uninsured and specifically, those needing diabetic care.
The North Carolina MGMA also took to social media (here) to share their congratulations. Stating in part:
"Congratulations to Pinehurst Medical Clinic (PMC), the 2023 NCMGMA First Citizens Bank Practice of the Year… and thank you to First Citizens Bank for their continued support of this award!