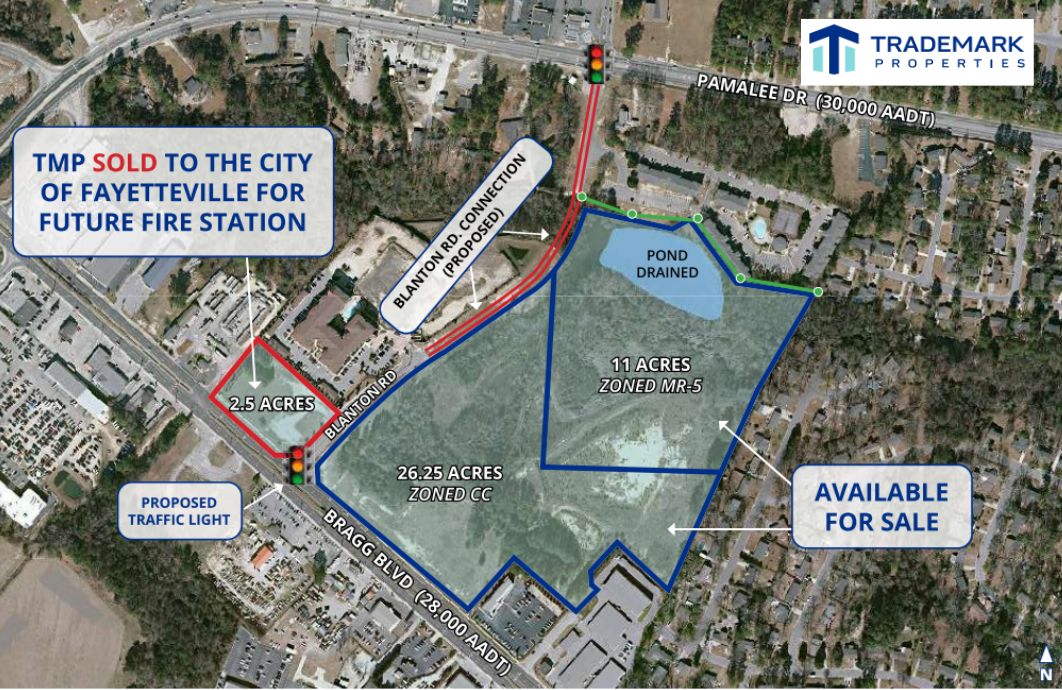 Residents and businesses on Bragg Boulevard can expect to see new development in the area in the coming years following the purchase of 37.25 acres of land by private real estate developer the Van Metre Companies based in Northern Virginia.
TradeMark Properties represented the original property owners, 3701 Limited Partnership, in the sale. They said the land listed as address 3910 Bragg Blvd sold for $4.75 million dollars and the deal closed on Aug. 4.
"We were very excited to find a quality buyer that is looking to enhance the Bragg Boulevard corridor," said Shelley Bhatia and Mike Keen, the two brokers for the deal. "It was a pleasure working with the seller on this deal as they were actively involved and made the process smooth and easy from the beginning. We see the amazing growth in the Fayetteville market and believe this development will be a great addition to the area!"
The sellers have owned the land since the mid 1990s and put the property up for sale a little more than a year ago.
"It was critical to our family to find a buyer who would add value and innovation to our community with the experience and financial muscle to handle the development of the property. We found that in Van Metre Companies, and both of us agreed to a price very quickly without much negotiations," the seller said in a written response to the GFBJ.
According to zoning information listed on the Geographic Information System through Cumberland County, as of 2021, the land is currently zoned as a Community Commercial District and/ or a Mixed Residential 5 District. The allowed zoning includes the potential for retail, service and office uses and a variety of residential housing. Also allowed under an MR-5 zoning ordinance are complementary institutional uses such as churches, post offices and police substations, as well as day care facilities and limited small scale retail sites.
According to Cumberland County public records, the Van Metre Companies are also the owners of The Villagio Apartments off of Bragg Boulevard and acquired two properties between 2021 and 2022 that house the complex.