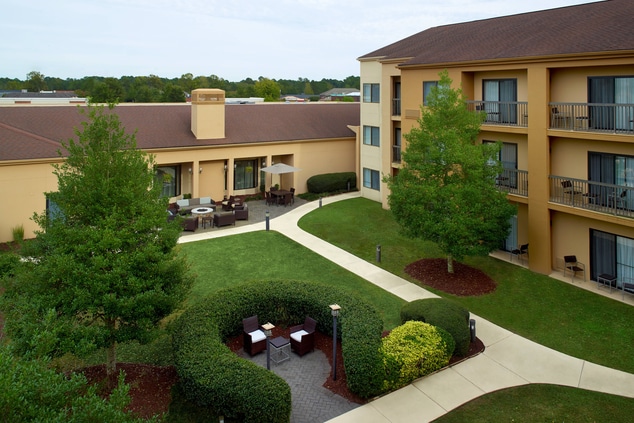 The Courtyard by Marriott located on Sycamore Dairy road in Fayetteville will be under new ownership by the end of the fourth quarter.
The 108 room hotel is be acquired as part of a joint venture of NewcrestImage and Hospitality Capital Partners. The acquisition is apart of their agreements to buy 16 Marriott-branded hotels with a total of 2,155 rooms across nine states.
The finished portfolio includes 13 Courtyard and three Residence Inn properties located in Georgia, Massachusetts, North Carolina, New York, Oklahoma. Pennsylvania, South
Carolina, Texas, and Virginia. Closing on the transaction is expected during the fourth quarter.
"This acquisition affirms our high expectations and high confidence in hotel investments, both near term and long term," explained Mehul Patel, Managing Partner and CEO of NewcrestImage in a press release. "We're hungry to be part of hospitality's growth and prosperity."
HCP Principals Keith Mishkin and Primo Parmar released a joint statement on the partnership in a press release: "Partnering with NewcrestImage for this transaction is grounded in our strong trust and respect for the company. We very much look forward to working with Mehul and his team to build the value of these hotels and to deliver uncompromising quality for guests as well as investors."
HCP and its principals have owned nearly 50 hotels in the western United States, most notably
The Saguaro Scottsdale, located in that city's historic Old Town area. Other projects
Include a total of 25 golf courses through their associated company, Parks Legacy Project.
"This joint venture with Keith, Primo, and HCP will take our long and valued relationship
to new levels of success," added Patel in a press release.
Dallas-based NewcrestImage has been actively acquiring properties since March. Including this most recent deal, the company has added 76 hotels with 7,600 rooms combined NewcrestImage also sold 27 hotels in January tro Summit Hotel Properties.
NewcrestImage announced on Sept. 8 with its most recent acquisition that the company had agreed to purchase 45 hotels with a total of 3,300 rooms from a private investment firm.
The portfolio includes 35 Marriott-branded, seven Hilton-branded, two Choice- branded, and one Radisson-branded properties that are located across 11 states -- Arkansas, Colorado, Illinois, Iowa, Kansas, Michigan, Minnesota, North Dakota, Ohio, South Dakota, and Texas.

Since being founded in 2013, NewcrestImage has completed more than $3 billion in
transactions involving nearly 275 hotels with almost 30,000 hotel rooms in 130
communities across the country.