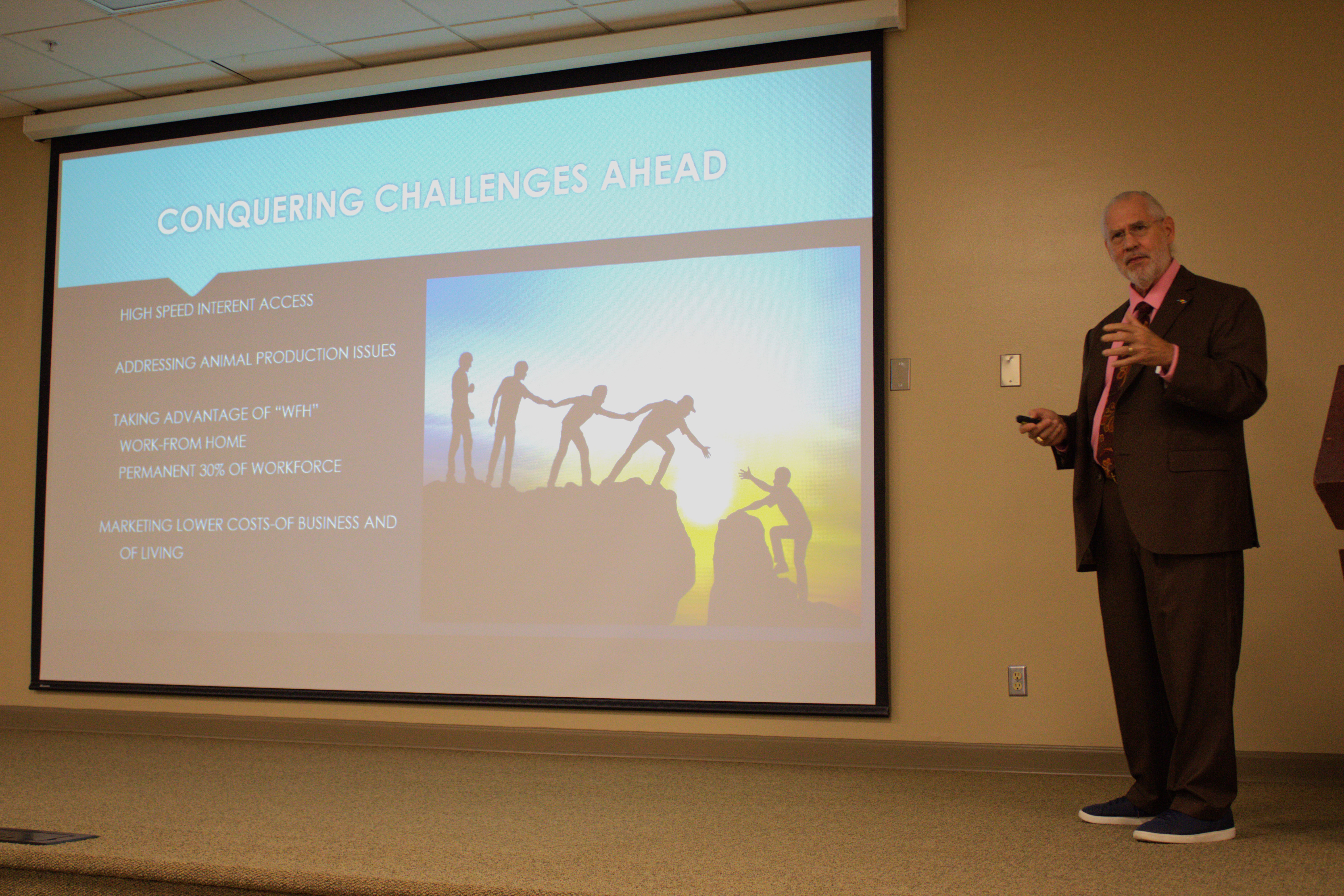 The Sampson County Manufacturing Council gathered together at Heritage Hall within the Sampson County Exposition Center on Wednesday, Sept. 27 to network, eat and learn about the current state of the economy following the COVID-19 pandemic.
The Sampson Manufacturing Council consists of industry leaders and partners and works to provide an opportunity for leaders of local manufacturing, distribution and logistics companies to network and hear from business resource partners for available solutions for their companies.
The meeting was held by the SCMC in partnership with Sampson County Economic Development which also allowed the community to meet and greet with the newly positioned Interim Economic Development Director Ray Jordan following the departure of Stephen Barrington earlier this year.
Featuring special guest speaker Dr. Michael Walden, the event was a space for local manufacturers to hear from an economic expert who provided an economic forecast, update & outlook on a national, statewide and local level.
Walden examined the state of the workforce while employers battle things like a worker shortage, changing demands and changes in the labor force participation rate.
Walden explained that following the COVID-19 Pandemic:
Salaries have been outpaced by rising inflation, and consumers are seeing a reduction in purchasing power by 9 percent.

During the course of the pandemic, the federal government distributed around $5.5 trillion. That money was originally saved by consumers due to a lack of accessibility to business and later spent after things began to deregulate, now consumers are back to borrowing.

Rising interest rates have slowed spending as the federal government tries to curb spending.

All of these factors lead Walden to conclude that consumer spending is still strong, but slowing.
Walden then went on into the state of manufacturing in North Carolina, sharing that the state is matching the downward trend as far as manufacturers in production, however is seeing less loss than at federal levels and the downward trend is starting to even out.
He did share that there has been growth in specific manufacturing sectors such as computers and electronics, motor vehicle parts, primary metals and printing.
"I think we will see growth slow. I think we will see job growth slow but I don't think it's going to go in reverse and I think by this time next year the Federal Reserve will already be cutting interest rates. Now, next week I may change my mind," said Walden.
Following his presentation he was able to accept questions from guests including how a four day work week may affect workers, how manufacturing employers can compete with work from home options and more.
Learn more about the SEDC and their mission here.