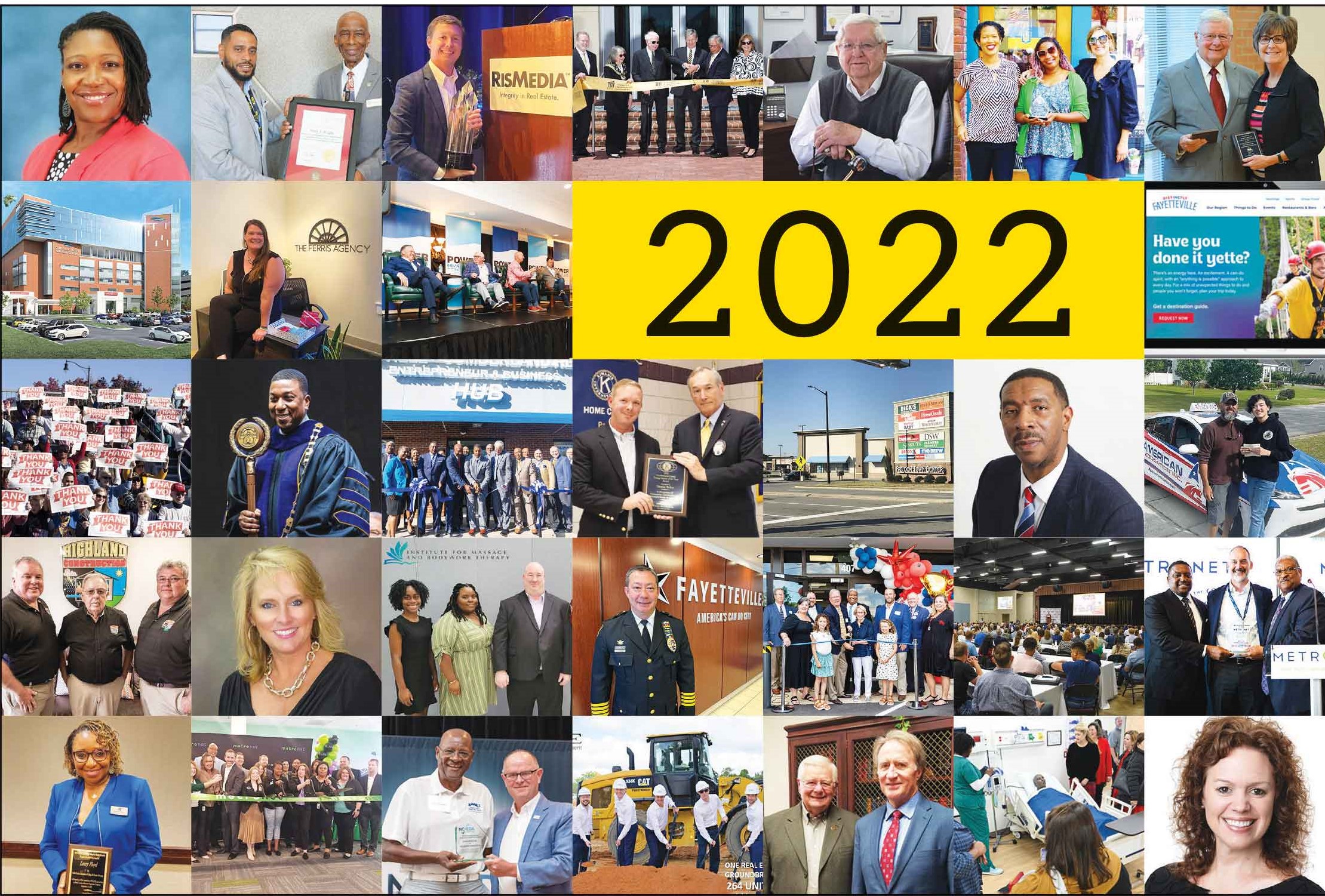 The new year is here – a time for goal-making, celebration, and reflection. For the business community, the hustle and bustle across different industries in Greater Fayetteville Business Journal's coverage area created an abundance of memorable moments worth looking back on.
We've included here a collection of some of the top stories of 2022.
FTCC PRESIDENT ANNOUNCES RETIREMENT/SORRELLS TO FILL ROLE
Having served as the president of Fayetteville Technical Community College since 2007, Dr. J. Larry Keen announced that he would retire on January 1 of this year. The presidential search, which began in March 2022, spanned the country, and Dr. Mark A. Sorrells, previously the senior vice president for academic and student services, was selected to fill the role. The North Carolina State Board of Community Colleges affirmed the decision on Sept. 16.
Prior to assuming the presidential role, Sorrells had 35 years of higher education and economic development experience.
"I'm humbled by and grateful for the vote of confidence by the Board of Trustees," Sorrells said in a press release. "I will do my best to carry on the legacy of Dr. Keen, who has been a wonderful mentor and friend. I can assure you that we will stay the course and carry out and build on the vision that Dr. Keen has established for FTCC to serve as a leader in economic and workforce development for Cumberland County, the region and the state."
BIG BUSINESS CHANGES IN COMMERCIAL REAL ESTATE
Whether properties were gaining new owners or businesses were expanding, the commercial real estate sector was buzzing. Holmes Security Systems, a Fayetteville-based company founded in 1908, moved from its Hay Street location to 407 Ray Avenue. Showcase Restoration, founded in 1979, moved into their new facility after closing on the property in 2021.
Some other notable changes were the sales of two major shopping centers in Fayetteville. Westwood Shopping Center, a 307,456 SF shopping center, was acquired by First National Realty Partners, a company based in New Jersey. In March, Freedom Town Center, a shopping center off Cliffdale Road and Skibo Road, was sold for $72.5 million to Serota Properties in New York.
FAYETTEVILLE STATE UNIVERSITY ANNOUNCES FREE TUITION FOR MILITARY-CONNECTED STUDENTS
FSU announced a new military tuition scholarship that would make tuition free for military-connected students. "Fayetteville State University is proud to be the premier destination, not just in North Carolina but in the nation, for educating military-connected students," said Chancellor Allison. "FSU is perfectly positioned here in the Sandhills region to change the landscape on how we think about workforce readiness in today's ever-changing job market and how we, in higher education, can support veterans and their families in their transitions to the civilian workforce. We're excited to announce the Military Tuition Scholarship (fully paid) to further support those who sacrificed for our nation in their next chapter in life."
FSU was in the top three percent of its peers for return on investment and has the largest number of GI Bill students among HBCUs.
UNCP GAINS NEW SCHOOL OF BUSINESS
The Thomas School of Business at the University of North Carolina at Pembroke is a new addition to the school's campus. Metcon, a local, minority-owned construction firm in Pembroke, was responsible for the job. The $35 million-dollar building is 62,000-square feet and two stories. Inside its doors, the School of Business features classrooms, seminar rooms, an auditorium, cafe, media rooms and a high technology stock trading room.
UNCP Chancellor Robin Gary Cummings explained that research showed 80 percent or more of the graduates of UNCP stayed in the area, making educating future business leaders a priority for the school.
In March, Metronet, a leading provider of 100 percent fiber optic internet, launched its network in downtown Fayetteville. The investment amounts to $70 million. It was announced in January 2021 and construction began in March 2021. Fiber-optic cable is available in roughly 14 percent of the country, according to Metronet, whereas coaxial cable is widely available in 84 percent of the country. The use of coaxial cable, which was invented in the mid-1800s, has reached its maximum speed and cannot accommodate high speeds as readily that are needed for streaming and other technology. Fiber optic, which was created in the 1960s and 1970s, can continue to accommodate increased speeds as technology evolves. The company celebrated the grand opening of their first Fayetteville storefront in early December 2022.
CAPE FEAR VALLEY HEALTH SYSTEM SEES GROWTH
Cape Fear Valley Health has seen success in several ways in the past year. In March, CFVH announced a whopping $110M expansion to its flagship hospital. The system said they would add 100 beds to the hospital's capacity with 40 percent of them designed as ICU beds. CFVH also shared plans to build two additional floors. The expansion, expected to be complete in the next few years, will make the hospital seven stories.
On March 25, the CFVH Dorothea Dix Adolescent Care Unit, located at 3425-B Melrose Road in Fayetteville, had its ribbon cutting ceremony. The almost 11,000 square foot building has 16 inpatient beds for adolescents in the 12-17 age range. Before its opening, the nearest inpatient facility for adolescent behavioral health was 60 miles away.
Construction for the facility began in 2020. The North Carolina Department of Public Health and Human Services funded $7 million of the project, while individuals and corporations contributed $71,000.
COLDWELL BANKER ADVANTAGE BECOMES LARGEST ENTITY IN CB NETWORK
Coldwell Banker Advantage officially became the largest entity in the CB Network. The network has 50,000 agents and 800 offices across the country. The Coldwell Banker network has 50,000 agents and 800 offices nationwide, including 56 offices and 1,850 agents in the Triad, Triangle, Sandhills, and the coastal region from Morehead City to Georgetown. Coldwell Banker Advantage is number two in all of Coldwell Banker's sales volume with $7.1 billion. The Fayetteville office contributed 3,300 transactions and totaled $800 million in sales. Since 2000, the Fayetteville office has been number one in market shares every year.
FIRST BANK FINALIZES SELECT ACQUISITION
First Bank finalized its acquisition of Select Bank & Trust. The acquisition added 11 branches to First Bank's footprint.
"We still have that same community bank feeling – we're just a larger organization now – but not too big that the customers feel they will get lost," said First Bank's Director of Public Relations Hilary Kestler. "We're big enough where customers have all the right technology. We're in that middle sweet spot."
At the time of the completion of the acquisition, First Bank had 120 locations throughout the Carolinas with a $10.6 billion asset size.
FCEDC AWARDED $4M FOR HR TALENT PORTAL
The Fayetteville Cumberland Economic Development Corporation and the Community Development Foundation announced plans for a $4 million HR Talent Portal to be built. The funds, which were from federal Congressional appropriations, would allow for the construction of a facility that could "substantially increase private sector hiring of our military, as well as support the employment of military spouses, connect veterans to career opportunities, and encourage companies to establish a North Carolina presence," FCEDC said. With the close proximity to Fort Bragg, the area regularly sees military service members transition into the civilian workforce. In fact, 7,000 service members transition from Fort Bragg into the private sector yearly, FCEDC reported. The facility will be used to facilitate the hiring of those skilled workers.
FORT BRAGG CELEBRATES SOLAR ARRAY
On June 10, Army leaders and executives from Duke Energy and Ameresco celebrated Camp Mackall's new floating solar array. The solar array made history as the first of its kind for the Department of Defense. It is also the largest floating solar array in the southeast. It will power nearly 735 homes and last 35-40 years. The 1.1-megawatt system creates carbon-free energy. The project will support the Army's mission to enhance readiness, save energy, leverage resources, and reduce long-term operating costs.
VISITOR SPENDING BOUNCES BACK ACROSS STATE; MOORE COUNTY RANKS 10TH FOR VISITOR SPENDING
A report commissioned by Visit NC announced visitor spending dollars across the state and by county. There was a collective increase across the state, equaling $28.9 billion.
The report entitled "The Economic Impact of Travel On North Carolina Counties" was assembled by Tourism Economics. It showed that visitor spending per day $79 million per day.
Total visitor spending across GFBJ's coverage area was as follows: Moore County ranked at No. 10 with a total of $673.26 million; Cumberland County ranked at No. 12 with $608.85 million; Robeson County ranked at No. 40 with $155.68 million; Harnett County ranked at No. 47 with 104.52 million; Bladen County ranked at No. 66 with $56.9 million; Sampson County ranked at No. 67 with $56.76 million; Hoke County ranked at No. 95 with $13.53 million.